About Me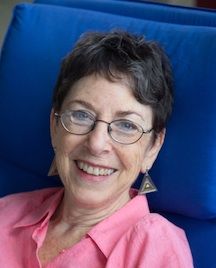 I've been practicing bodywork for over 30 years. At 75, I'm semi-retired, but I love to work with people. I am fascinated by our miraculous bodies, and by how each body expresses the person who lives in it. My goal is to to help clients feel more relaxed and comfortable in their bodies. I help individuals understand and love their bodies no matter what their age or condition.
Massage enables people to relax and feel at peace in mind and body. When relaxed and at peace, people are more in tune with themselves, and they can tap into their bodies' natural ability to heal.
Many of my clients have serious illnesses or disabilities. Life for these people is challenging at best. I love to work with them and provide the compassion and respect that they deserve. It is deeply rewarding to provide comfort and appreciation for what people are going through.
My true passion in working with the body is understanding and "speaking" the language of the body, the senses. At a time when our culture is obsessed with appearance and performance, we tend to forget that our bodies are intelligent organisms. They know what they need, and they tell us all the time. Many times, we don't listen. We need to re-train ourselves to listen to the bodies' messages. Listen better. Live better
In 2014, I became an ACE certified personal trainer for seniors. I offer a customized self-care program for aging clients who want to enhance their well-being, take their health to a new level, and develop healthier bodies as they age. Getting older doesn't have to be a "bad" experience. Aging is a time when we can let go of what no longer serves us - negative judgments, bad memories, and poor habits. We can engage our wisdom and our skills, start a new chapter, and create a life that makes us happy. Sometimes it helps to have a healer and a guide to navigate this new territory. I offer my compassion and knowledge to be a guide for those who want to re-create themselves in a happy experience of aging.